Newsletter November 2010
Gluten-Free Roast Chicken with Fig and Pancetta Stuffing
SERVES 6 TO 8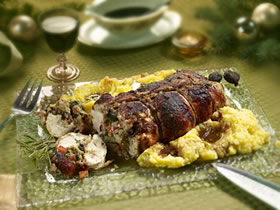 Il secondo, the second course, is the center of every Italian holiday feast. This scrumptious dish calls for a whole chicken that's deboned. Ask your butcher to debone it or use whole boneless chicken breasts with skin on. With nimble hands, this recipe can be prepared in less than 1 hour. The results are worth it.
½ cup figs, diced
½ cup dry white wine
1 small onion, diced
1 tablespoon olive oil
1 clove garlic, chopped
¼ pound pancetta or gluten-free bacon, chopped
1 tablespoon fresh rosemary leaves, chopped, or 1 teaspoon dry, divided
1 red pepper, diced
1 cup fresh spinach, chopped
2 cups coarse gluten-free bread crumbs (see below)
1 cup gluten-free chicken broth, divided
2 teaspoons salt
½ teaspoon fresh ground pepper
1 whole chicken, deboned (about 3 pounds) or 3 whole boneless chicken breasts, skin on
1. Place diced figs into ½ cup wine. Set aside.
2. In a large frying pan, sauté onions in olive oil until translucent, about 3 minutes. Add garlic and cook about one minute. Add pancetta or bacon and rosemary and sauté until bacon is a light brown, about 5 minutes.
3. Add red pepper and spinach and sauté for 3 minutes. Transfer mixture to bowl to cool slightly.
4. Remove figs from wine, reserving wine for later use. Add bread crumbs, ½ cup broth, figs and salt and pepper to bowl and mix well.
5. Preheat oven to 400 degrees. Lay chicken, skin side down on a clean surface. If using chicken breast, first pound the breast between two sheets of plastic wrap to ¼-inch thickness. Lay breasts skin-side down, overlapping slightly.
6. Line the center of the meat with stuffing. Pull up the sides to meet in center, overlapping slightly. Truss with kitchen or butcher's string.
7. Rub outside of the skin with olive oil, remaining rosemary and sprinkle with salt and pepper.
8. Place in 9×13-inch baking dish on center rack in preheated oven. Baste with reserved wine and remaining broth. Bake for 50 minutes or until desired doneness.
9. Let sit for 10 minutes to set flavors. Then carve into slices and serve.
Each serving contains 373 calories, 19g total fat, 4g saturated fat, 0g trans fat, 90mg cholesterol, 928mg sodium, 20g carbohydrate, 2g fiber, 28g protein.
---
Gluten-Free Bread Crumbs
MAKES 1 CUP
Your favorite homemade gluten-free bread makes ideal bread crumbs for special dishes. Store crumbs in the freezer and use when needed.
2 thick slices gluten-free bread or 1-2 gluten-free rolls
2 tablespoons olive oil
– Salt and pepper, to taste
2 tablespoons dried herbs (parsley, basil, thyme or combination), optional
1. Preheat oven to 350 degrees. Line a baking sheet with parchment paper.
2. Cut bread into chunks and pulse in a food processor until coarse crumbs form.
3. Place crumbs in a small bowl and toss with olive oil, salt, pepper and herbs, if desired.
4. Spread evenly on prepared baking sheet and bake in preheated oven until golden brown, about 20 minutes.
5. Store crumbs in an airtight container for 4 to 5 days in the refrigerator or up to 3 months in the freezer.
---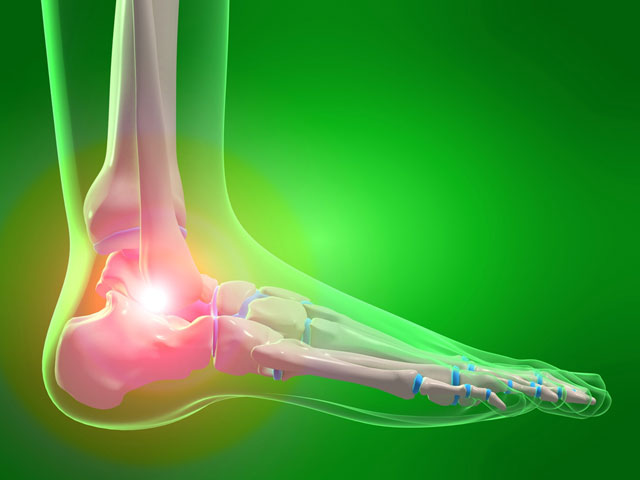 Revisiting the Vital Force and Natural Pain Medicine
One of the fundamental principles of Natural Medicine is our belief in the Vis Medicatix Naturae or the Vital Force.
We believe that true healing is not the suppression of symptoms, but the awakening of our body's natural ability to sustain health.
Did you know that there are more chemical reactions happening per minute in our bodies that there are planets in the universe? We don't control this; it is being manifest for us. We do not make our own hearts beat or our food digest; it is being manifest for us. Life is literally "living us"
How does the Vital Force work in Biopuncture to help me with my pain or inflammation?
In conventional medicine, the drug you take will suppress your symptoms immediately. That is why you need to take high doses of chemical substances in order to continue to suppress symptoms like pain or inflammation. This usually works immediately. But as soon as the medication stops working, you have to take another pill to "kill the pain" again.
In Biopuncture/Neural Therapy, small doses of products are injected in order to stimulate the natural healing processes. These ultra-low doses "wake up" mechanisms which are already available in your body. So, the healing effect comes from "inside" your body — not from the products themselves. This natural wisdom in your body is called the Vital Force. It orchestrates the reaction of your immune system which will produce the proper reactions to regain natural healing. The reaction of your body may be, for example, better local blood circulation, tissue repair, relaxation of muscles or local detoxification.
For more information or to see if Biopuncture is an appropriate therapy for you, please visit our website or call my office for more information.
---
From the Skin Care Department
Permanent laser light skin treatments for Hair removal!
$140.00 per treatment is now in a Fall package for $99.00 per treatment.
Natalie, our skin care specialist would be happy to see you for a complimentary consultation to evaluate what treatment works best for you.
---